Papa Louie: When Pizzas Attack!

The title screen for the Kongregate version of the game.

Genre

Platformer

Platform(s)

PC

Developed in

2018

Kongregate Badge(s)

Gourmet Kongregate Supreme (30 points, hard)

First appearance of:

No-one important.
Papa Louie: When Pizzas Attack! Is the final installment in the Papa Louie game series.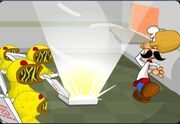 Papa Louie hates pizza now and monsters transport him into a pizza world and he learns to like pizza again.
Controls and Gameplay
Edit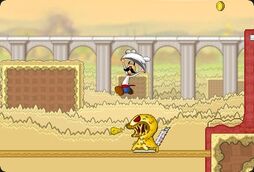 Stupid.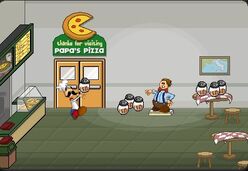 Reception
Edit
As the final installment of the Papa Louie series, Papa Louie: When Pizzas Attack! generally received a terrible reception from players. It has a rating of 1.23 out of 5.00 in Kongregate according to the votes of the players of the game in the same website.
It is the final game in the Papa Louie series to have Papa Louie as a playable character. This tradition is also repeated in the Mochi Games version of Papa's Eggeria, in which Papa Louie was a playable worker.